David and Raya went to run errands the other day and it so happened that they were early enough to get some Mitsu-ken. I am so jealous! Their garlic chicken is THE best I've ever tasted! (my mouth is watering just thinking about it!)
Seriously, IF you ever have a chance to go to Hawaii/town BEFORE 1pm...GO RUN, not walk, to Mitsu-Ken and get their garlic chicken!

Look, even Raya's excited!

"Oooh! That looks yummy!"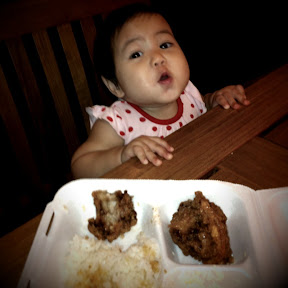 I love Raya and her funny faces! She cracks me up!